Looking for improving your articles and elevate your writing using Grammarly Premium? But stuck on a question, "is Grammarly Premium worth it?" Here is the detailed Grammarly Premium Review to answer your question.
Check out how I will be answering the question in depth so that you don't need to look for it anywhere else.
Knowing Grammarly Closely Before You Buy
Grammarly was created by the company Parse.ly; it was released in 2008. Alex Shevchenko and Max Lytvyn founded the company to make writing easier for everyone.
Grammarly is a powerful grammar-checking tool with the most accurate language processor on the market.
Their patented technology detects more than 250 types of errors, including spelling mistakes, punctuation faults, and homophones.
It also suggests synonyms for words that might not be in the original text or might be spelt incorrectly. Grammarly's goal is to help people communicate better online.
Using Grammarly can help you avoid these common mistakes:
Typos
Unclear meaning due to incorrect word usage
Poor sentence structure
Misused words
Faulty grammar
It provides contextual spelling suggestions to help you find the Word you are looking for when you type words or phrases into its search bar or when it detects a potential mistake in your text.
These contextual spelling suggestions come up below the typing field, making them easy to spot and click on.
Grammarly Review
Grammar and punctuation

Sentence rewrites

Vocabulary

Tone detection

Plagiarism detection

Compatibility
Summary
Grammarly is the only grammar checker that offers you most of the efficient and quality features. I highly recommend that you buy the annual premium plan blindly to get the most out of the tool.
You can use Grammarly to check a written piece of content for any errors in grammar and composition.
The free version covers the basics of grammar, while the premium version includes stylistic suggestions and best-writing practices suggestions.
Whether your writing is clear and compelling or sloppy and unprofessional, this factor makes all the difference.
And thus, this is the prime reason to upgrade your Grammarly plan to take your writing to the next level.
Grammarly Premium Review: Feature
1. Grammar and Punctuation
There is a large number of grammar and punctuation errors that Grammarly Premium detects, including alliteration, comma splices, run-on sentences, fragments, and many others.
If you don't know why a mistake is a mistake, Grammarly will explain it to you in an intuitive way. This gives you the reason to upgrade Grammarly and elevate your writing.
2. Grammarly Word Spell Check
Your writing is reviewed for spelling errors with this program.
The Grammarly spell checking feature has a level of accuracy that is superior to the average Microsoft Word spell checker, perhaps the best available in the market.
Grammarly's Writing assistant's level of accuracy and intelligence makes it unique and the best selling Online Writing Assistant in the market.
3. Plagiarism Checker
Sometimes intentional or unintentional plagiarism can be detected by scanning your entire article. It happens with everyone.
But do you know Grammarly Premium compares billions of web pages to your document and alerts you to passages that may need citations?
Thus if you want to avoid plagiarism right at the time of writing, then you must upgrade to Grammarly Premium.
Many people search on the internet "Is Grammarly premium worth it to revise technical papers".
Grammarly Plagiarism feature has the answers to the question. It will help you to revise your research paper without any grammatical mistakes and plagiarism. This is what makes your research paper unique and professional.
4. Writing Style Analyzer
In addition to providing tips, suggestions, and advice, it offers the feel of a human level of interaction.
Grammarly's rewriting feature is perhaps one of its most underrated features. It provides many actionable insights on improving your writing, including sentence length, readability, and other essential factors.
A good writing program like this is what you need to become a better writer.
For the who students search on the internet, "Is Grammarly Premium worth it for Students?" My answer is Yes! The above four features that I mentioned provide a complete suite of tools that a Student requires in school and college life.
The features are:
Grammar and Punctuation
Grammarly Word Spell Check
Plagiarism Checker
Writing Style analyzer
Moreover, Grammarly helps you improve your emails, social media posts, blogs, and formal papers, no matter what type of writing you do – professional writing, casual writing, hobby writing.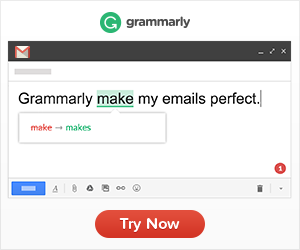 In addition, I think that upgrading to Grammarly Premium is a must for the following:
Teachers and Students
Writers and Bloggers
Digital Marketer
Professionals dealing with business

Do You Really Need Grammarly Premium?
Nevertheless, I recognize the importance of writing clearly and accurately in my role as an editor and blogger.
It is easy to think that grammar is an old-fashioned convention in the age of instant messaging, emojis, and short-form content. It is, however, straightforward to compare excellent grammar with bad grammar.
The following reasons explain why:
Your message is most important. You will have trouble making your point if you don't clearly communicate it in every form of writing, from a blog to a tweet.
Your writing represents you. Rather than risk appearing negative due to grammar errors, why not avoid them altogether? by writing a sample of your writing to show the reader who you are.
You have nothing to lose. Your writing will become more advanced by using a Grammarly Premium. Grammarly will make sure your writing is effective and correct and increases the likelihood that you will reach your audience in the right way.
Writing clear and error-free text becomes very easy when you have a powerful writing assistant online and a premium grammar checker at your fingertips.
Thus to produce quality content and convey the absolute essence of your writing, you must go with Grammarly Premium since the quality and uniqueness of your business content determines your Business growth and income.
Benifits Of Using Grammarly Premium
Grammarly is a great way to improve your writing as soon as you start using it. The free version has the following main advantages:
You can run through the entire text as you write to check for errors, or you can run through it at the end to make sure that you haven't overlooked any issues.
It provides suggestions for ways to improve and restructure sentences.
This program checks spelling in American English, British English, Canadian English, and Australian English.
A simple format that works on many types of devices and documents
Top 3 Reasons To Choose Grammarly Premium Over Any Other Alternative
I always recommend Grammarly Premium to my college juniors, colleagues, and family due to the following reasons and uniqueness that Grammarly Premium has.
1. You Need Not To Be A Nerd
Although we're living in the modern era, there are still some people who cringe at the word "software" (there's a reason why we use "app" instead).
Many people do not want to deal with something more they prefer to stick with what they already know rather than incorporate something new into their routines.
It makes sense to me.
There are a lot of other software programs out there, so-called "best Grammarly alternatives", but I always find Grammarly different.
Grammarly has much more to provide. It has an incredibly easy-to-use interface and user experience, no matter how complex or advanced the backend is.
Using Grammarly is simple (which we explore in more detail below) and can be achieved in various ways. The different modes to use Grammarly are:
The Web Browser extension
The Grammarly Web Tool
The Desktop App
The Microsoft Word Add-In
The Mobile Application
It's simply a matter of clicking a few times, and you can get Grammarly to look at your text regardless of whether you copy and paste it into the online version of the program or the desktop application.
Having tried various online Grammarly alternatives, including ProWritingAid, Ginger, etc., I can assure you that Grammarly is the only and the best.
I am passionate about recommending easy-to-use tools to clients that make their lives easier and mine as well. This is why Grammarly comes as a first choice while suggesting the best online writing assistant.
2. Grammarly's Unbeatable Features
If you're reading my Grammarly review, the one thing you probably want to know above all else is Grammarly premium worth it for its features?
The straightforward answer is Yes! Grammarly does work, no question about it. Unfortunately, there is no way to use another spellchecker that can catch all grammatical and spelling errors.
As far as AI-based writing software is concerned, it has never been accurate. So it is unlikely that you will find many errors and mistakes in standard software and apps.
You can count on Grammarly to not only cover basic mistakes but more complex suggestions as well with 99.97% accuracy.
To understand why, I researched why Grammarly is best and different from other products I've used, so why is it so effective?
Several interesting facts and stats that I found are listed below:
Their first software, Mydropbox, was released in 2002, and the founders of Grammarly have been writing software since the late 90s. The university project has enrolled nearly 1,000 universities in just 5 years.
It was important to them to create a product that everyone could use. There is a range of formal as well as informal writers, both among students and professionals.
Using millions of pages from research databases they continually tweak their "good writing" algorithms with an in-house team of deep learning engineers and computational linguists.
I find Grammarly to be the most powerful tool. I've used it so far because of the accuracy and quality that it provides.
3. It Teaches You Everything You Need To Know
Grammarly Premium goes more than just highlighting your mistakes by actually teaching you why they are wrong, so you're not left guessing about what you're doing wrong.
You can use Grammarly not only to ensure that your documents, emails, and posts are written correctly, but you can also leverage micro-lessons to improve your writing.
Grammarly is the perfect tool for anyone who speaks English as a second language or wants to refresh their knowledge of grammar daily.
Methods Available To Use Grammarly Premium Effectively?
The Grammarly program requires an internet connection to operate, so you must be online.
To ensure that your grammar is correct, there are several methods available, including:
1. Grammarly Editor Review
You can copy and paste your writing directly into Grammarly. For those who prefer to use a computer, you have two options available. First, you will be presented with a blank page after clicking on 'New' in the dashboard.
You can then copy and paste your writings into the page, allowing the site a few seconds to handle them. This software will analyze, correct, and read your reports in just a few seconds.
A fully and filled out document can just be uploaded directly to the site. In addition, the same analysis will be performed on any paper you choose from your computer by clicking on the upload button instead of creating a new one.
Grammarly online editor can also be used directly on its website to ensure that your writing is error-free by checking your report as you type.
2. Desktop Application Review
There is also an option for checking your writing using a desktop application – as long as you are using the Windows or Mac operating system.
Follow the installation instructions and begin using the tool just like the online version.
You can download the app directly from the download page, follow the installation instructions, and begin using the tool immediately.
3. Grammarly Add-On For Microsoft Word Review
Using a Grammarly add-in directly within Microsoft Word is another alternative. However, at the time of writing, this is only available if you are running Windows.
You can download the add-on from here. To install it in Word, please follow the instructions. When you've got it running, the add-in will automatically correct your writing as you type.
That's is how I use Grammarly regularly. In addition to being easy to install, I also found the software extremely intuitive to use.
Please note that it requires an internet connection to be used in MS Word.
4. Grammarly's Web Browser Extension Review
With Grammarly, you can use a browser extension as an easy way to use it.
You can get this extension from the Chrome Web Store or the extension link on the homepage.
With Grammarly, you can use a browser extension as an easy way to use it.
You can get this extension from the Chrome Web Store or the extension link on the homepage.
When you use the extension on a few websites, it will automatically check your writing. After that, you can add the extension to Chrome as you would any other extension.
You can even use Grammarly on Google Docs if you prefer Google's word processor, as well as Gmail for composing emails.
5. Grammarly Keyboard App Review
In addition to the default smartphone keyboard, Grammarly's app offers a mobile keyboard you can download to your smartphone.
Mobile devices running iOS and Android can use the app.
It will help you correct your writing as you compose an email or text message after activating its premium version.
It is clever enough to give you intelligent predictions to speed up your typing, and it is advantageous if you want to catch those minor mistakes you can make on the phone.
Apps can be downloaded from the Play Store or the App Store.
Grammarly Premium Pricing: Is Grammarly Costly?
The best part of Grammarly for many writers with a low budget is that you can use it without paying a penny.
Grammarly can be used indefinitely without any limits or limitations since its free version does not include any rules and doesn't require a trial period.
I want to emphasize that Grammarly's free version is pretty good. But as I said before, Grammarly premium is the best and the only solution if you're going to elevate your writing and take your content to the next level.
Nevertheless, you will have to upgrade to Grammarly Premium to access all of Grammarly's features.
The cool thing about Grammarly is that it doesn't cost you a considerable amount. So you can start with a meagre budget.
The plans that Grammarly provides you are:
Free
Premium
Business
Additionally, Grammarly Business offers a low-cost monthly charge per user if paid annually.
You'll have access to all the features included in Grammarly Premium, as well as an admin panel and team statistics.
But for individuals like bloggers, students, teachers, writers, etc., I would suggest going with the Grammarly Premium Plan.
If you run an online business where you need to write online and produce content without any error, I would suggest you buy Grammarly Business if you want your business to have quality content.
Grammarly Premium Review: Pros and Cons
Before buying any product or service, checking its pros and cons is a must.
Here is the detailed list of pros and cons helping you answer the question "is Grammarly premium worth it"?
Pros
There are no charges for using Grammarly. It is possible to use the spelling checker and the usual grammar checks unlimited times regardless of subscription status.
Because plagiarism detectors scan billions of pages at once, there are fewer chances of the leftovers of copied content being left over.
Because over 200 grammar rules are adhered to by the vocabulary algorithm, you can be confident that no grammatical mistakes will be made without any doubt.
You do not have to leave the Grammarly dashboard to give your document a human touch. Instead, the professional Grammarly proofreading option can be used to do the job directly from the interface.
Grammarly can be used directly from any web browser. The extension is compatible with Chrome, Safari, Internet Explorer, Microsoft Edge, and Firefox.
Both macOS and Windows can run native apps.
Microsoft Word users can use Grammarly's Microsoft add-on to work within the Word interface.
Grammarly for smartphones is available. In addition, Grammarly Keyboard offers predictive writing and artificial intelligence features to help you write fluently.
You can get your money back if you are unhappy with Grammarly's features within seven days.
Cons
In the current version of MS Office Add-in, only Microsoft operating systems are compatible, so the product cannot be used in the MS Word interface for users of Mac OS systems.
Grammarly does not support Quora, which is disappointing for writers like me who use the website frequently.

Does Grammarly Beats Other Online Writing Assistants?
From a superficial standpoint, Grammarly faces some serious competition from other grammar checkers in the market.
Several grammar, spelling, and punctuation checkers are available online, including ProWritingAid, Ginger, and WhiteSmoke.
Unlike most writing tools, ProWritingAid can provide you with more detailed feedback. For example, you can translate languages as you draft with Ginger, and with WhiteSmoke, you can create professional-looking documents.
But Grammarly is still the best grammar checker, in my opinion. I choose it simply because it's the most straightforward and most intuitive tool to use.
Compared to its main competitors, Grammarly's interface is more elegant, more streamlined and more functional. But, in comparison, all of them have a clunkiness.
With its minimalist icons and beautiful layout, the Grammarly desktop app especially looks excellent. Using a simple click, you can instantly see the mistakes, the reasons and decide whether to implement or ignore them.
As for installing Grammarly, it is a simple process. My browser (I use Google Chrome) checks everything I write when I'm in it with just a few clicks. So essentially, it's doing its job in the background.
Grammarly is easier to use and more beautiful than its competitors, which shouldn't surprise anyone. However, there are more resources available with a giant company.
Grammarly would be the winner of an arms race if online grammar checking were a race. Thus Grammarly is my first and only choice because of the above reasons.

Grammarly Premium Review At A Glimpse
There's nothing better than Grammarly Premium when it comes to online grammar checkers.
All of the features you get with the free version are available in the paid version. Of course, everything else is on top of that.
There are additional grammar, punctuation, sentence structure, and context checks in Grammarly Premium. The free version checks for the following things in addition to what is listed in the free version:
Inconsistencies in the writing
Confusing sentence structure
Use of unnecessary words
Overuse of words
Inappropriate tone
The language used is insensitive.
Visit the Grammarly premium to see the premium version benefits.
An excellent comparison of Grammarly premium and free models is available here:
The premium version of Grammarly promises that you can ensure that all the text you write is clear and engaging.
No grammar checker can transform sloppy or rushed writing into a masterpiece than Grammarly.
Despite this, Grammarly Premium has some useful features I use nearly every day. I always incorporate a few extra and helpful suggestions that Grammarly Premium makes into the text that I write when running it over something I write.
I must say the premium version of the program has improved my writing.
Additionally, the pop-up box displays detailed information about whether there are any grammar errors. This option is not available with the free version.
The best feature I like about Grammarly is that you can set writing goals based on the following factors when you open a new document:
Intent (inform, describe, convince, tell a story)
Audience (general or expert)
Style (formal or informal)
Emotion (mild or strong)
Domain (academic, business or technical).
You can adjust Grammarly's settings to control which issues it flags and which it ignores. Using these goals, Grammarly can provide some powerful insights.
My Experience With Grammarly Premium
My experience with Grammarly Premium has been unique and positive.
With the free version, you have an extra set of eyes on your writing, and it is much better than not having one. Your typical free spelling and grammar checker will not detect this many errors.
Using Grammarly Premium will help you improve your writing skills on a budget.
If you upgrade to Grammarly Premium, you will discover more spelling and grammar mistakes in your document.
Additionally, you'll get feedback/context behind your errors to help you improve your writing style.
Having the premium version is worthwhile to me because I benefit from the additional features.
It's crucial to me to never include typos or minor errors in my blog articles about editing, proofreading, and writing.
Also, the most important benefit that I got using Grammarly Premium is that my CTA hicked up, and the bounce rate was literarily lowered. As a result, I have boosted my revenue with a small investment in Grammarly Premium.
Final Thoughts
If you ask me my opinion, I would say Grammarly is the best writing assistant tool in the market, and I would highly recommend Grammarly.
Grammarly is a friend for academic students that can help you with English grammar wherever you are, at any time.
For someone who writes a lot, Grammarly is a great tool. Bloggers, students, and anyone who writes email regularly can use Grammarly.
A small investment in yourself and your business can change your entire future. You can see miracles happening if you compound your assets.
A summary of Grammarly benefits are provided below:
The program minimizes the number of errors your text contains, saving you your hard-earned reputation.
Your weekly trend and progress reports push the writer after you have broken the previous record.
Enhances user experience and makes your documents more compelling.
You will never be accused of plagiarism accidentally.
Develops and enriches your knowledge of words and vocabulary.
Helps you improve your grammar habits, causing you to feel more confident.
I highly recommend that you buy the annual premium plan blindly to get the most of the benefits out of the tool at a cheaper cost. However, you should take it without a second thought if you have never used it before.
I would like to know how your experience with Grammarly is as; if you already subscribed or plan to upgrade, comment below how a small investment in Grammarly helped you take your content to the next level.
How did you find this Grammarly Review? Let me know? Please leave your valuable comments in the following comment section.
Frequently Asked Questions
1. Grammarly Premium vs Grammarly Business: what's the difference?
Grammarly Premium is designed to help individuals improve their writing via our advanced editing feedback. In addition,
Grammarly
 Business was designed to ensure a professional tone and clear communication within your teams.
2. Grammarly is a safe service, but how secure is it?
Security is at the core of Grammarly's products, infrastructure, and business processes. 
Learn more about our security practices
. In its SOC 2 (Type 2) report, Grammarly attests to its enterprise-grade system and organization controls, including security, privacy, availability, and confidentiality.
3. Does Grammarly have any volume discounts?
Yes! Grammarly offers volume discounts on annual plans for more than ten members. You will automatically be credited with the discount value after completing the self-checkout process. Additionally, you can contact sales if you're buying a plan for more than 149 members.
4. What are the components of an enterprise plan?
In addition to the features of Grammarly Business, Grammarly enterprise agreements provide enhanced security and control, enhanced customer support, and bulk user management for your large organization.
5. How can I make a payment for Grammarly Premium?
Grammarly's payment methods include major credit cards (Visa, American Express, Mastercard, Discover) or PayPal.
6. Does Grammarly offer any discounts for educational institutions?
Yes! Grammarly provides discounts for educational institutions 
here.
7. Is Grammarly for free?
Grammarly is a free writing assistant tool, but it also offers premium plans with additional features.